Turn your product idea into a ready-to-implement development plan and create a successful application.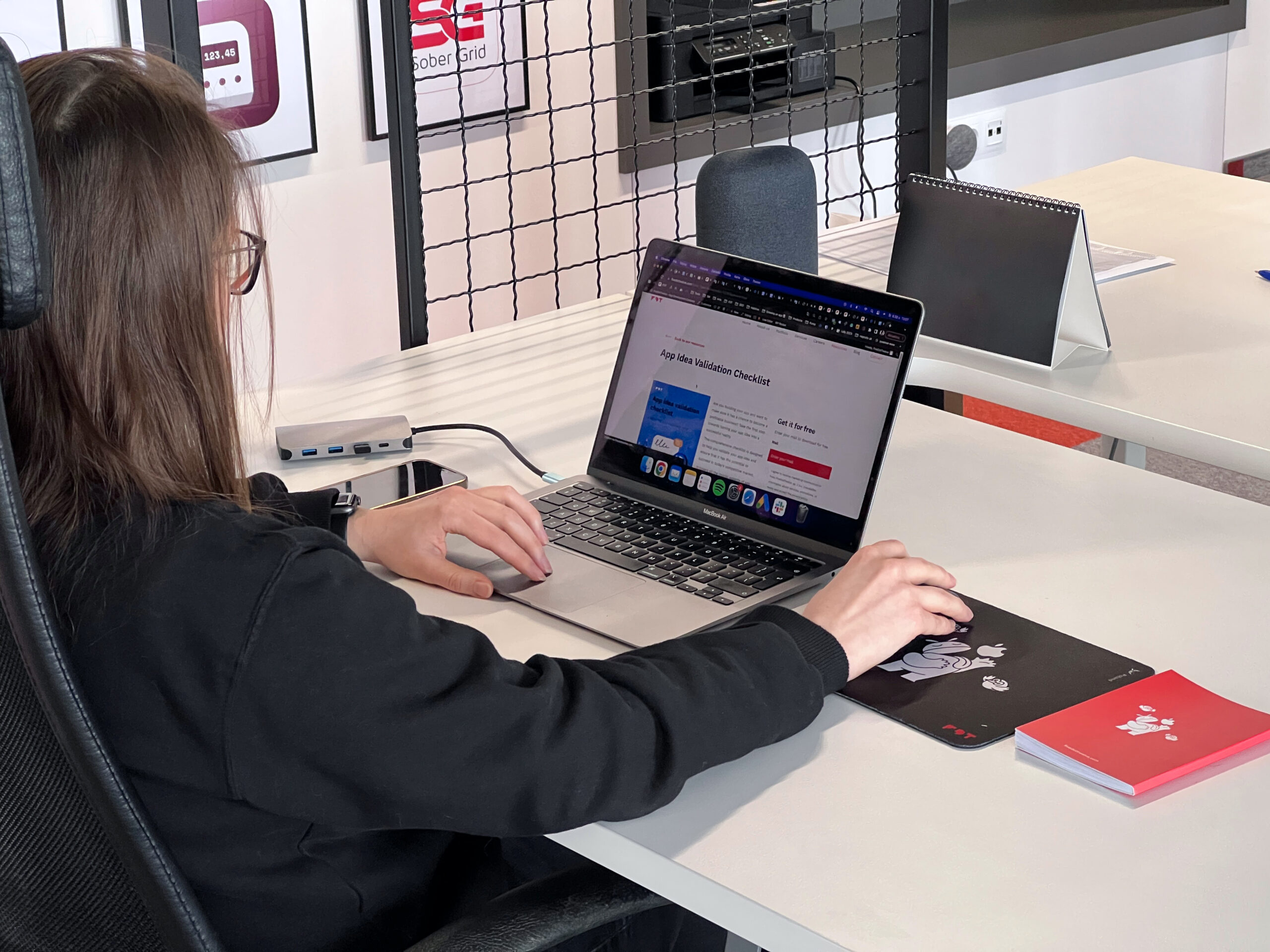 Product design workshops are interactive sessions that bring together stakeholders, developers, QA testers, and designers to collaborate on developing an innovative and effective product.
The goal is to create a ready-to-implement development plan by combining the app founder's business needs with the team's expert knowledge.
Product design workshops can help you shape your app idea, differentiate from competitors, and save time and money by identifying flaws early to create a successful app.
Everything you need to successfully build your app
We'll help you with
Product vision
Shape your product vision to make sure your app idea has business potential.
Design and documentation
Gather all the necessary materials to start the development.
Time&cost estimates
Find out what budget you need and how long it will take to build your product.
Product design workshop is for you if
You have an app idea but you're unsure about the process of development
You have a product vision and need help bringing it to life
You have wireframes or UI/UX designs and want to audit them with an experienced team
You need to validate your app idea and make sure it can become a successful product
You have the app design and features list and need a quote of time&budget for the project
What you gain from it
Fully shaped product vision and business plan
You get a summary of all the business aspects worked through during the business analysis.
Product roadmap and design to start the development
You receive a detailed list of the functionalities for MVP or the first version of your product, and a final app design in Figma.
Detailed estimation of time and budget
You receive an estimate to fully understand the real cost and time it will take to build your product.
No matter what stage you are at, this workshop will equip you with a fully-fledged vision for a product, with ready designs and a development plan. You'll learn how long it will take to build your app and how much it will cost.
Our Partners who benefited from product design workshops
Scope of product design workshop
1. Business analysis
Product vision and goals / User persona / Competitive analysis / UVP / Monetization model / Success metrics / Lean canvas
2. App features
Detailed list of features / Tech compatibility / Wireframes
3. App design
Finding the design style you like / Final designs of your app
4. Estimate
Detailed time and cost forecast
FiveDotTwelve product team
Account manager / Project manager / Business analyst / UI&UX designer / App Developer / QA Specialist
Your product team
CEO / Product owner / Your tech team (optional) / Your key stakeholders (optional)
What our clients say about us
FiveDotTwelve helped us find right approach to create new version of mobile application. They are very open minded, often suggesting good ideas and quick in execution. What is also important they understand how we work and were able to adapt.
FiveDotTwelve understood our intentions and needs well. We could count on their advice at each stage of the work. They prepared a design that suited us very much, keeping our website in a simple but elegant tone.
FiveDotTwelve provided strong guidance throughout the process and was receptive to receiving and implementing feedback. Their team is dependable and delivers high-quality products. Honesty and reliability are hallmarks of their work.
We have been using FiveDotTwelve as our development partner for UX design and web development. They are efficient, service minded, proactive and available. I can give them my best recommendations.
This was a steep learning curve for me and the whole team at FiveDotTwelve were as patient as they were professional. It really felt like the whole team was working together to build the best possible app, developing and enhancing my initial ideas.
FiveDotTwelve treats my project like their own and is always willing to provide ideas that make the product better. Often, they are able to provide feedback on my ideas that make things more efficient or user-friendly, and that back-and-forth is one of the biggest strengths of working with them.
FiveDotTwelve is more like a team than an agency that you just hire. Great understanding of the product and my vision. They were really supportive when I needed that, and also when I wasn't expecting any assistance from them at all. I highly recommended FiveDotTwelve.
It was a pleasure collaborating with FiveDotTwelve. They were an extension of our team and distance was not a problem. Everyone we met was friendly and professional. Well oriented in planning the tech stack, they were a guiding hand in developing our product. I would enjoy working with them again and wholeheartedly recommend their services.
I heard about FiveDotTwelve when they developed an app for a local football club. In our long-term cooperation, I have appreciated the flexible approach to our corporate structures. What was really special was their help in understanding how mobile app development works, their guidance throughout the process and their expert knowledge. They were not afraid of challenges.
It was a true pleasure to work with FiveDotTwelve, and they showed the highest level of professionalism. For us, this experience was like a 101 in managing and conducting IT projects. Their approach allowed us develop a final app version that exceeded our expectations, while opening new possibilities, and generating ideas for future products.
FiveDotTwelve delivered an end-to-end mobile app redesign that's much more secure and continues to spur business growth. Since the new product launch, there has been a consistent upward trend in ratings, downloads, and monthly active users. The team was responsive, prompt, and dedicated.
We've been working with FiveDotTwelve for a long time. They do a great job helping us create the best version of our product. Very responsive, coming with interesting ideas, professionals you can count on. We are very pleased with this cooperation.
Working with FiveDotTwelve was a positive change after our earlier experiences. They were focused on understanding our needs, were able to bring valuable comments to our ideas and above all they implemented an intuitive solution that allowed us to expand our offer.
I recommend FiveDotTwelve for everyone who are not fond of hearing "it can't be done". The team successfully managed to develop my app ideas, often advising on how the functions could be improved. If it wasn't for FiveDotTwelve, my project probably wouldn't have seen the light of day.
FDT have an exceptional team. They hire selectively which is obvious when you begin working with them. Their development skills are first rate, as are their product/UI/UX skills. Don't have any hesitation about hiring them, they're awesome.
They love working on our projects, and they enjoy what they do. Most developers don't like to work on other people's code but FiveDotTwelve has been very open to that. Thanks to them, we didn't have to rewrite the app's code. They're also timely, which is why we have a very good relationship.
FDT have successfully helped across several different projects. They have been able to provide a personable and human approach to outsourcing. Their developers integrated into our team on one project whilst on another they were able to take a specification and independently deliver the final product. Would highly recommend.
Our joint project with FDT resulted in outstanding results for our company. We achieved all business goals in given schedule and budget. On development level, the agile approach proposed by FDT, helped us to have a full control on our project. On personal level, working with Damian and his goal-oriented team was an exciting journey which was a pleasure not a daily routine. Hopefully, we can work together in the future.
The most impressive aspect of working with FiveDotTwelve was the team ethos and everybody pulling together to find solutions to issues within the development roadmap.
We've been working with FiveDotTwelve for years. They helped us develop a mobile app and a website. They often think ahead of us, they advise along the way and deliver products exceeding our expectations. Working with them has been a sheer pleasure and a huge dose of professionalism.
FiveDotTwelve helped our product to reach the sky. They rapidly developed our app with a very nice look and feel. Our collaboration was great from the early start. They think along, which improved our vision in significant ways. The team is very committed and eager to make each project a success.
On the sports market, mobile applications are not a new solution for communicating with fans. However, it is rare for a service provider to create a fully dedicated product for a club, which is exactly what happened in case of this project. An experienced team cooperated with a strong sports brand and the result is an effective marketing tool.
They were more than just an agency; they really felt like a part of our organization. They worked incredibly hard and relished it. They took ownership of the platform, so, if there were any problems, they were as eager as we were to fix them.
FDT team really dedicated themselves to deliver an outstanding app — it wasn't just another project on the list to check. They were not only delivering on contractual obligations but also didn't hesitate to propose improvements.
Their communication was the most impressive thing about them. They not only waited for input from us but also proposed solutions. They were our partner, not just a team doing what they were told.
FiveDotTwelve has allowed us to integrate a new area of communication with our fans and increase marketing opportunities. The implementation of the project and its results exceeded our expectations.
I'm very happy, they're a really good team. We shopped around a bunch of different places, and they were the best during the presale and execution stages. I've done a lot of software work, and they're in the top percentile.
FiveDotTwelve are great people, good value, good quality, professional developers. They do what it takes to get the job done.
Thanks to FiveDotTwelve we were able to effectively enter the market in a short period of time and become operational in multiple countries. The communication was clear and efficient even though at times there were a lot of various topics going on at the same time.