7 ways to promote your mobile app
Let's assume your app is released and placed in mobile app stores. The monetization model is already implemented, so people will simply download the app, use it and you will start earning money. The job is done, end of story, the success is accomplished! Isn't it? 
Well, you probably came here looking for information about mobile app promotion strategies because you already know that this isn't true – launching the app is not the end. Even the best app in the world can remain unnoticed if you don't take action. 
That's why mobile app marketing is so important and here we're presenting you with some ways to promote mobile apps so they can be noticed and succeed on the app market! 
Mobile app promotion through ads
One of the ways to promote apps is online advertising. There are many places where you can put your ads and many ways to do that. Let's explore the most popular and effective ones. 
In-app advertising 
In-app ads are placed in apps offering ad space and you can use them with an ad network platform (such as AdMob from Google). There are several formats to choose from, such as banner, video, native, full screen, playable and reward ads.
Google Ads
Google Ads enable you to advertise on the web or in the search results of the Google search engine. It is the most popular PPC (pay per click) advertising method, which means that you only pay for the ad if someone clicks it. 
Google Ads are focused on relevant keywords that you select during the campaign creation process. When a user types in a specific phrase, your ad will appear in Google search results, if the ad is properly optimized.
Facebook Ads
Facebook Ads enable advertising your mobile app (as well as other things) on social media. Unlike Google Ads, Facebook Ads are based on users' interests and online behavior instead of keywords. Facebook Ads can appear on desktop devices and in mobile apps, on Facebook, Instagram and Messenger.
Apple search ads and Google Play search ads 
Search mobile ads on Google Play Store and App Store help people discover your app when they browse the mobile app store, matching customers with your app right when they're looking for products similar to yours. This method works by choosing the relevant keywords you want to show up for and showing your product name in the search engines results. 
You can find more information about mobile app advertising in this article. 
App Store Optimization
If you want to increase the mobile app's visibility and make it appear higher in the App Store and/or Google Play Store search results, as well as to get more installs of your app, take care of the App Store Optimization (ASO). You could say it's a SEO for apps. 
What is important in App Store Optimization? Let's have a look at the factors that matter in ASO:

Your mobile app name matters a lot. It's the first thing that users see and they can save it in their minds forever or just forget it the moment they read it. So the name should be easy to remember and unique at the same time, so that it's recognisable.

The app icon (app logo) is a graphic element that users will associate with your app. That's why it's important to keep it related to the mobile app's core feature or make it visually attractive so that users like it and remember it.

There are many App Store Optimization tools that can help you find the right keywords for your mobile app, keyword popularity trends and metrics, such as AppFollow and App Radar. 
It's the short description placed under the mobile app's name. It should also contain keywords. 
The app's description should contain information about the mobile app's features, benefits and overall information about it, as well as keywords. 
The app screenshots and a demo video in Google Play and Apple App Store should show the app's features and benefits in the best possible way. This section is crucial for user acquisition strategy as we mostly explore things through visual recognition.
The number of downloads is also significant for ASO – it shows the interest around your app and gives a hint on how useful and efficient the product is. 
They also count. Apps with low rates will be placed lower on the lists in mobile app stores and your target audience will be less likely to download your app if it has bad reviews. That's why it's important to encourage users to rate your app.
Mobile apps should be updated regularly, so they're always… well, up to date and corresponding to the newest system solutions. Moreover, updating the app is a clear signal to the app stores algorithms that the product is continuously being developed. 
Most of the app downloads are executed through search engines in Google Play and Apple's app store. By improving and optimizing ASO, you'll improve the visibility of your app in the stores on selected keywords that your target audience uses to search for a product like yours, for free. This can definitely help you gain more app users. 
Social media 
Maintaining social media profiles is another important action in mobile app marketing. It's perhaps an underrated but very useful way to reach a large number of mobile app users. If you are visible on social media, you have a chance to gain a lot of publicity and be able to encourage new users to visit your page and then use your product. Share your content with both existing users and to attract users from your target audience.
As mentioned above, you can place ads in social media, but maintaining the accounts and staying active by sharing content regularly is mostly free. With millions of users of Facebook, Twitter, Instagram, TikTok etc. it's definitely worth doing that! 
Website & landing page content 
A website is probably the basis of any new business. If your business already has a website, it's a good idea to do the mobile app promotion there, but you should also create a website or a landing page for your mobile app separately. 
Landing page for your app promotion should:
Showcase all

features

of the mobile app

Mention the app's

benefits

Have

social media

channels references

Show some best

rates and app reviews

from users 

Link to

mobile app stores

where the app is available

Share

content

and

blog posts

relevant to the target audience

Include

information about your company

and business

Provide

contact details

Enable to provide

user feedback

, for example through a contact form

Link to

app review sites

in which your app was mentioned. 
Also, remember to make the landing page mobile friendly as visitors who are interested might be mostly mobile devices users.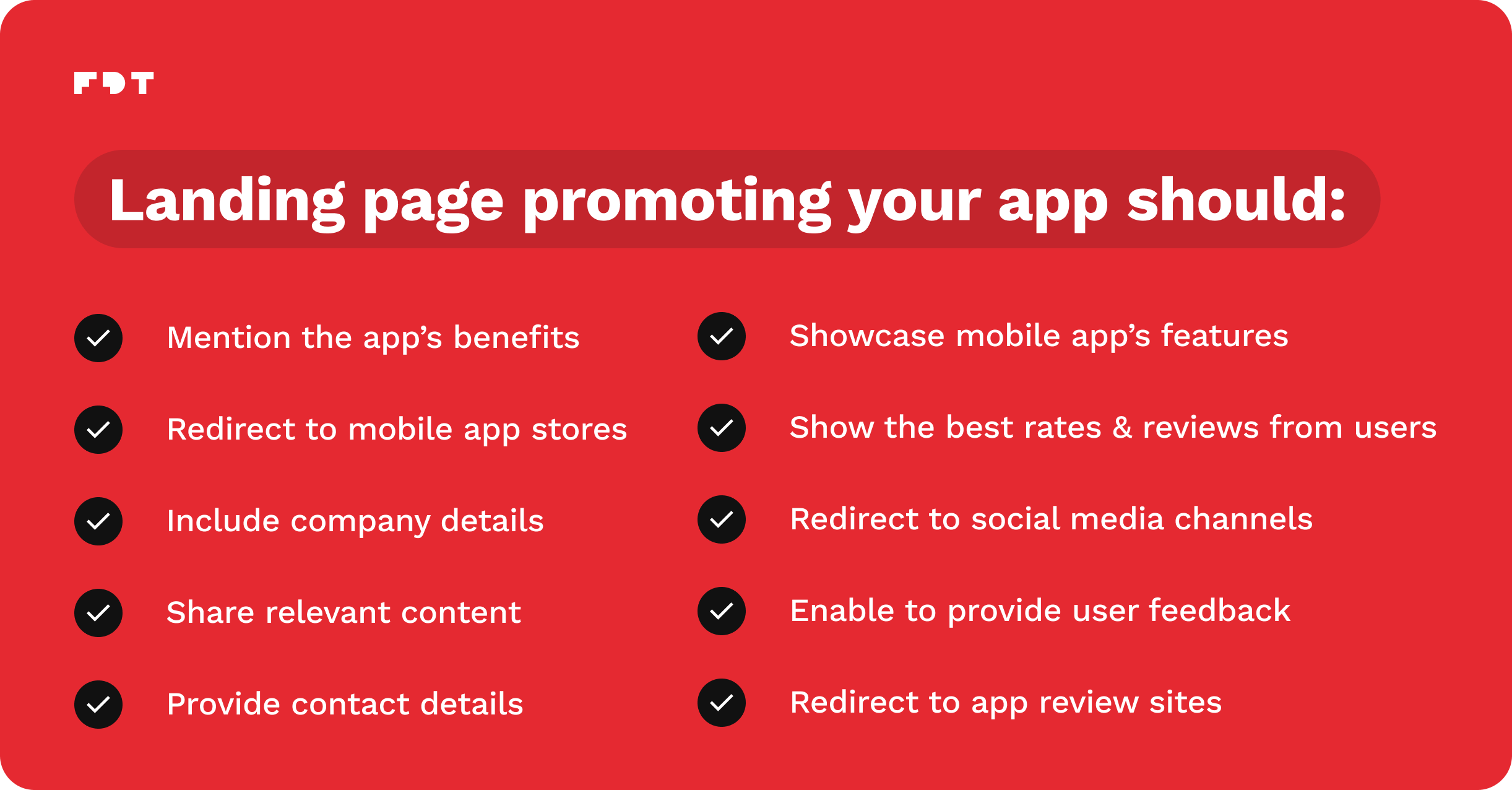 Content marketing
Apart from those in social media channels, it is worth creating relevant content on your website (e.g. on a blog) and on other portals such as YouTube or websites visited by your target audience. A customer who notices that the content you share is valuable, might become interested in your company, services and product. Mobile app marketing also includes encouraging new audiences to join your app users community by sharing information they're interested in. 
To promote your mobile app effectively, don't limit your marketing efforts to sharing content that directly refers to the app. If you and your team attract users e.g. with different articles related to your business activity, photos and stories it might be much more profitable. Also, don't forget to collect your website visitors' email addresses to send them a newsletter! 
Traditional marketing
Let's remember that there still exists just the opposite of the above-described mobile app marketing methods. There is also the outbound marketing – a traditional mobile app promotion e.g. through outdoor activities, cold mailing and newsletters.
Outdoor advertising
These are long known advertisements which may appear, for example, on banners, leaflets, in the subway, during events etc. If you decide to use this type of advertising, try to work out where it would be the best to place them so that the customers you want to attract notice it.
If you have a store or restaurant you also should place these ads there to attract customers you already have and transform them into your app users. You can offer your clients something for downloading the app, like a free snack or a promo code. 
Cold mailing & newsletters
Mobile app promotion can also be executed in a more direct way with cold mailing, newsletters and other email marketing methods. 
You can always try to reach your target audience with cold emails encouraging them to download the app or send them a newsletter mentioning about the app. Don't forget though that users choose to receive the newsletter to follow the content they like, so you can't only conclude information about the mobile app there. 
Influencer marketing & partnerships
Another great method of mobile app promotion is using a recommendation system in cooperation with celebrities and influencers or other apps. One important thing about influencer marketing is that there are tons of different possibilities and there's no fixed template for this kind of cooperation. Usually, famous people offer promo codes etc. for downloading the app and simply compliment the app so that their audience wants to have the app too. 
You can also become partners with another mobile app that will promote yours. The partner app would then offer benefits for downloading your app and that's how you can gain new users.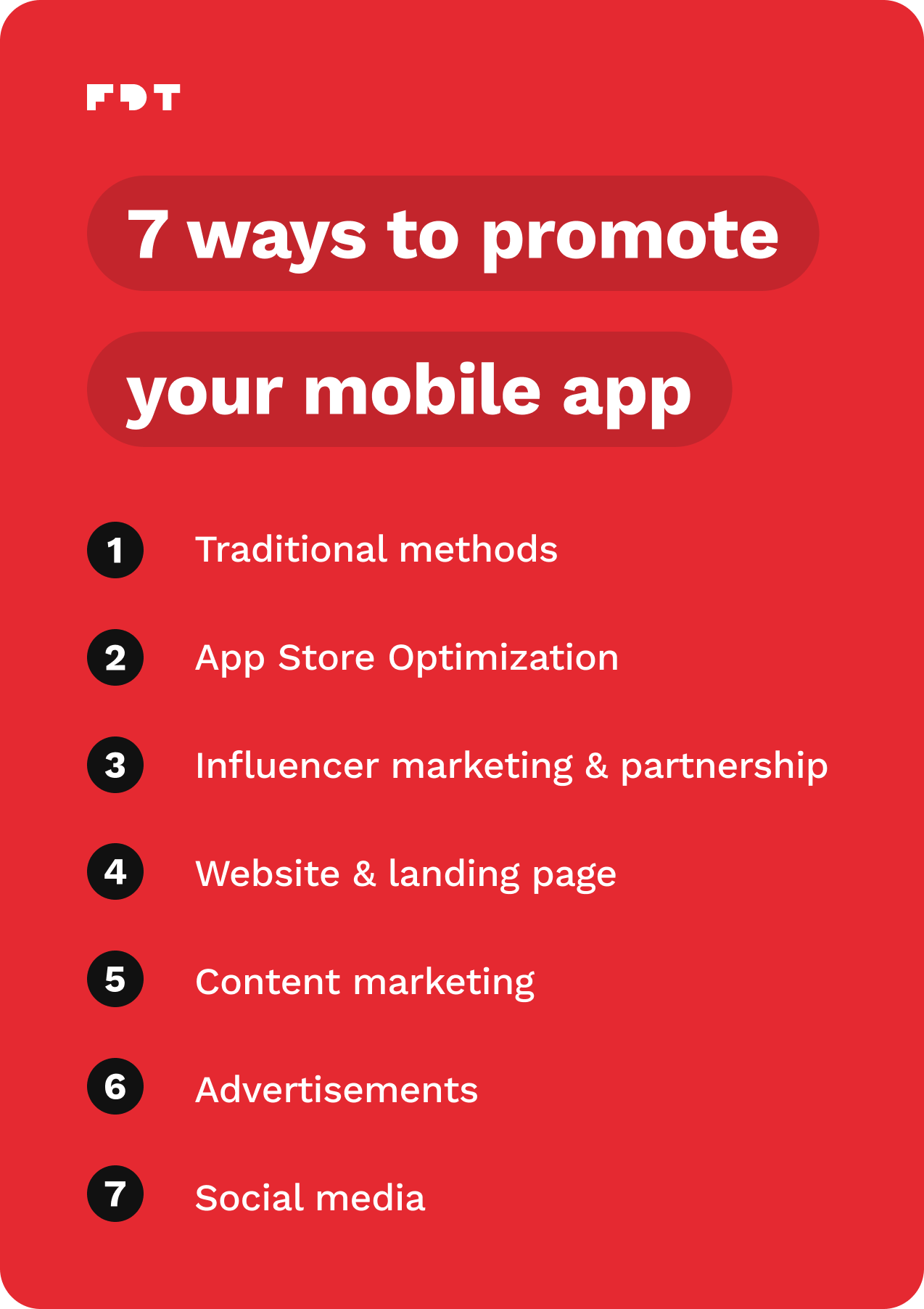 Why is mobile app promotion so important?
Let's focus on why it's actually worth investing in app promotion and why companies use different methods of mobile app marketing. Maybe you think that great apps don't really need promotion? Find out why it's not true.
There is almost 6 million apps available 
In the first quarter of 2021, Android users were able to choose between 3.48 million apps and the Apple App Store was the second-largest app store with roughly 2.22 million available apps for iOS. This number is constantly growing, so it's probably already bigger when you're reading. How do you want to make your app visible among 6 million other apps? Promotion might be essential to simply make people notice your app. 
More downloads = more money
It may be a bit obvious but promoted apps simply gain more downloads and the more users your app has, the more you earn on ads, in-app purchases, subscriptions or whatever your monetization model is based on. Your mobile app marketing should therefore be always based on the app user acquisition strategy, to attract more and more users and be profitable. 
To help users make the choice
Some people may be looking for an app like yours. And sometimes it's just like we're looking for something but need a boost to finally really start searching. Just like with exercises… You think about doing daily workouts but don't actually do it until you're motivated enough. That's why it's so important to target your audience with ads etc. and encourage users to finally download your app as it corresponds to their needs. 
The competition on the app market is so high that the user will never have time to check out every existing product. Hence, if you don't take care of the app promotion and visibility, it might not be noticed at all.
Lots of products failed because they lacked mobile app marketing
Lack of promotion and marketing is often the reason why the product fails to succeed on the market. Without any promotional efforts, it can be difficult to find customers for any business and it concerns apps as well. No matter how great your app is, if people don't know it exists and aren't encouraged to use it, they may never discover its benefits. 
Mobile app marketing strategy
It's very important to have an app user acquisition strategy in every project. You should create the whole plan for your mobile app marketing strategy even during or before the app development. No matter which methods you'll choose (although it's always best to use a couple of them at once), you should keep it in mind when creating your app. 
Conclusion
Hope you feel encouraged that mobile app promotion strategies are very important for your product to succeed! 
Find some more useful materials related to mobile marketing and mobile app development here: