Top 20 features to include in your e-commerce app
This article is for you if you:
Have an

ecommerce app

or

ecommerce website

 

Are planning to

open an online store

Think that

mobile shopping app

might be the right way for you

Are looking for

ideas for a new app

.
Before you gather your team of app developers, get to know what features should be included in every e-commerce app for mobile phones and browsers, and what are some trends worth implementing now or in the future! 
We're gonna start with some theory and facts, if you'd like to move straight to the list of features recommended for e-commerce apps, click here.
Is it worth hitting the ecommerce business?
Ecommerce industry has reached amazing growth in the past years, steadily increasing over the years and suddenly reaching the revenue of 4.25 billion US dollars in 2020! Within the next few years it is expected that ecommerce stores will make more and more revenue. Pandemic may have caused the great interest in online shopping but users keep choosing this method as the most convenient and attractive one. 
So yeah, it's probably worth entering the e-commerce business, whether you already have an online shopping site or not. 
Global ecommerce app market
According to Statista research, in 2021, e-commerce accounted for nearly 20% of retail sales worldwide and amounted to almost five trillion U.S. dollars. Forecasts indicate that by 2025, the online segment will make up close to a quarter of total global retail sales.
Ecommerce apps
Ecommerce in mobile is now also called mobile commerce (mcommerce). Going back to the whole definition: Mobile commerce is one of the components of e-commerce (online commerce) which has moved to mobile devices. Explaining e-commerce, it allows you to make purchase transactions through modern internet technologies. Most people already know it and use it, even on a daily basis. M-commerce focuses on the same thing with the use of smartphones, tablets and other handheld devices. 
What exactly are ecommerce apps? 
Ecommerce apps are mobile apps created specifically for mobile devices, so that shopping is easy, convenient and more enjoyable for users. 
Is it necessary to have an ecommerce app for your online store? 
No, it's not necessary. You aren't obligated in any way to build a mobile commerce app for your customers but it's recommended and it's probably best to do it sooner or later. Whether it's about brick and mortar stores or anything else, you have moved your business online for your customers. Now that they mostly use mobile devices to do shopping, you should meet their expectations again by creating an app dedicated for your business. 
Do you have to create an app available in mobile app stores? 
There are other ways than creating a native or a cross-platform mobile app and putting it on Google Play and Apple App Store. Online stores can also be adjusted to mobile devices so that users can look for products and make purchases through a browser in your store.
However, you should remember that the more ways users have to make purchases the better, so it's probably best to think about creating a mobile commerce app for popular app stores as well. 

Top ecommerce app and online store features
Let's dig into the top e-commerce app features you can implement in your app to make it effective and attractive for your target audience! These bullet points mostly can also relate to online stores, so if you don't have an app for your business yet, don't worry. Hints will be valuable for you too. 
Sign-up and login
First of all, every ecommerce app should enable a one-step registration process and login with their external accounts like Apple, Google, Facebook or others. Right at the start, users should be able to enter all the necessary data to avoid doing it with each purchase. On the other hand, you shouldn't force users to enter e.g. preferred payment method and the shipping address needed for purchase. Let users browse products and enter data once they decide to buy something. The app should remember the data for future purchases though! 
Alternatively, you can add an "enter as a guest" option for those who haven't decided to make a purchase yet. 
Remember: long registration forms might discourage customers from buying in your store, especially mobile users. To avoid this, you should also let your customers use the email address as a login. One way or another, a trouble-free registration process is a must!
Shopping cart
Of course, in every ecommerce mobile app and every online store there has to be a shopping cart. It's a place where users can put the products they'd like to buy or compare. In the shopping cart all the products should be visible with photos, prices and short descriptions. There should also be a call to action button enabling purchase (moving on to payment). You can also add a progress bar so that the user knows how many steps are ahead and can estimate how much time the purchase will take. 
Easy browsing
Every e-commerce mobile app should enable really easy products browsing, without issues including reloading errors etc. It's recommended to put product pictures and short descriptions on this page. On this screen users should have the possibility to enter the product page, add the product to the shopping cart, as well as to find the search bar, go to the menu with categories and filter the results. 
Product page
The product page should consist of: 
A short product description 
Just to be able to identify the product by its name. 
Lots of pictures and optionally a video presenting the product 
Users should be able to see the product from different perspectives. When it comes to clothes, preferably presented on different models.
A detailed description of the product, its origine, benefits and information about the return policy etc. It's a place to tell the user everything about the product and it can also contain pictures. You can divide the description into sections, e.g.: description, ingredients, origine, returns, reviews. 
Obviously this is the place where most users will decide to buy the product, so there should be a button enabling putting it in the cart.
At this point your customer might decide that they want to browse other products, go back to the list. That's why the "Go back" button is necessary. What's quite important here is that it shouldn't redirect to the beginning of the products list, but to the point where the user entered this product. 
This page should also enable clients to contact the customer service. 
Users might also decide to see the product later. In this case, the best option is to enable them to add the item to the wish list.  
Instead of making screenshots and copying the name of the product, users should be able to share the product on social media platforms and others with their friends. For this purpose, you can add a "Share" button on the product page.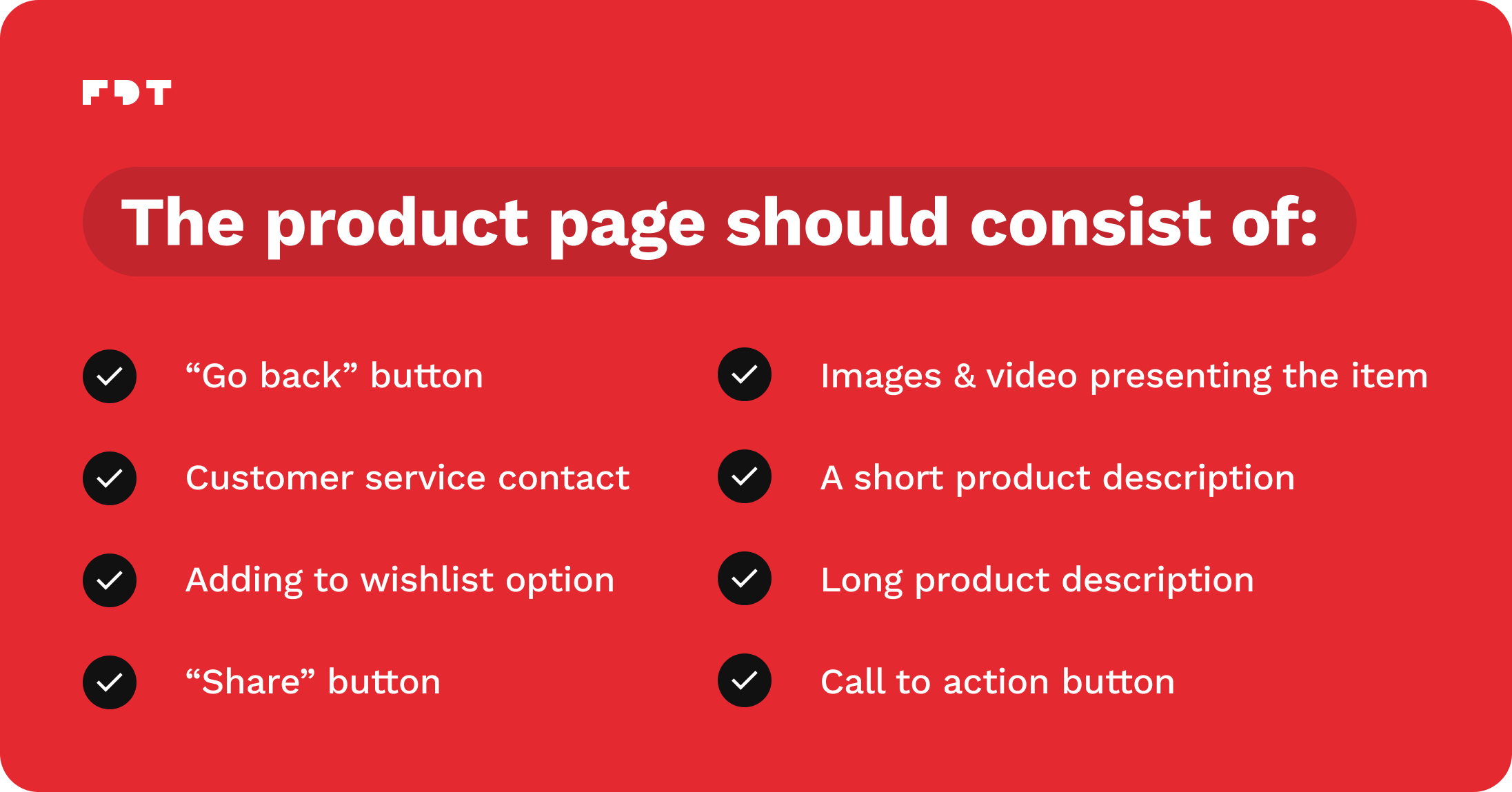 Search bar
At the stage of browsing products, users should be able to use the search engine and find specific products or categories. The search bar shouldn't interrupt customers in browsing but also should be visible on the screen. 
Products filtering and sorting options
When browsing products in online stores, customers should always have access to easy filtering and sorting options. Such a solution will make searching for what they want easy and user-friendly.
Wish list/favorites
One of the essential features in an e-commerce mobile app is adding products to the wish or favorites list, so that users can browse them later, check their price daily or buy them once they're ready. This option will also let you track the interests of your customers. 
Payment options 
Multiple payment options are definitely a must-have! For your brand loyalty and great customer experience you should offer a couple of payment options in your e-commerce mobile app. They could include: 
Credit card payments

Standard bank transfers

Fast transfers

Payments with mobile wallets (Apple Pay, Google Pay)

Deferred payment options. 
It's not only important for great customer service and to make payments easy. Various payment methods can impact customer loyalty, as satisfied clients, who were able to use the option they like the most, will gladly buy from your store again. 
Customer service contact
It's highly important to enable users to contact the customer service whenever they need it. In case they need more information, there's a problem or error to report, or they need any kind of assistance, they should have the possibility to reach out. A great additional option would be to do it without leaving the app. 
Live chat
You can also enable your clients to chat with the customer service in real-time. Such a feature is always valuable in e-commerce apps and can greatly improve customer experience. 
Product reviews
You can enhance your e-commerce mobile app with a feature for writing reviews for items you sell, or also ratings. An effective feedback system has a chance to provide you with a great competitive advantage! Detailed product descriptions are one thing, but online shoppers like to check others' opinions before buying to try to assess if this is the right product for them. Also, you can think about enabling app users to submit an anonymous review. 
Social sharing
E-commerce apps should also offer users the possibility to share the product with friends on social platforms. Firstly, it's free advertising, secondly, it's convenient for users. Apart from social platforms, it should also include sharing in texts, copying the link to the offer, emailing the product page and other options.
Notifications 
In an e-commerce mobile app, there should also be a notifications section, where users can see their order status and recommendations. Delivery status tracking would also be a great idea!
Push notifications for mobile users
It's really important to implement push notifications from mobile apps, no matter from which field. In m-commerce, push notifications should include information about sales, discounts, reminders, order and delivery status. You can also think of notifications about discounts of products from your customers' wish list. That's something that would improve customer loyalty for sure!
Personalized suggestions & recommendations
Apart from notifications, in e-commerce apps there can be a separate section for checking personalized suggestions and recommendations based on previous purchases, browsing history and the wish list. An additional feature could be flash discounts and sales, such as discounts available only for one day. 
Membership & loyalty program
Almost every store has a membership and loyalty program. So why not move it into mobile, where you can take care of your loyal clients in an easier and more effective way? 
If your store offers loyalty cards, don't forget to let customers transfer their cards into the mobile app!
Product comparison
One good idea for additional features in e-commerce apps is product comparison. You can let the app users add two or more products to the comparison list and display similarities and differences. 
Mobile app analytics
Last but not least, a feature entirely for you and your business, with no impact on users. As it's extremely important to track user behavior and constantly adjust and improve your e-commerce app according to this data, you should definitely integrate an analytics tool, like Google Analytics and Firebase. It's not exactly implemented in a mobile app as a feature, but you need to integrate it with your e-commerce app so that all data can be read and analyzed. This rule applies to every online store. 
Based on data on click-through rates, cost of conversion, user session time and others, you can make the app better for users and become more and more profitable!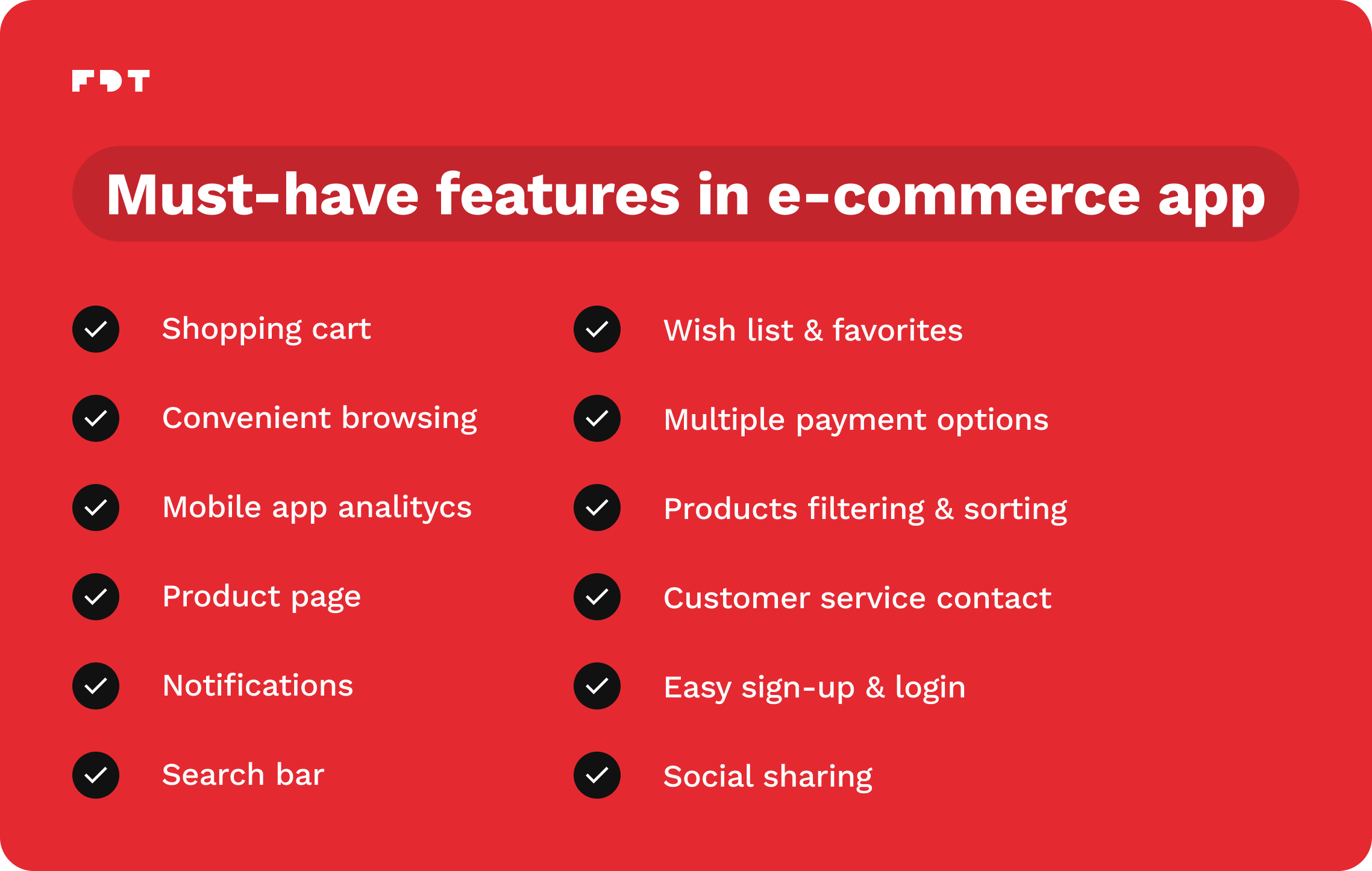 Ecommerce mobile app trends
There are some latest trends worth taking into account when creating an m-commerce app. Here are some of the 2022 mobile commerce trends you should consider:
Augmented reality and virtual reality
Online retailers more and more often use augmented reality (AR) in their ecommerce apps. Among other e-commerce trends, this kind of visual commerce is exceptional. You can use it e.g. to attract customers who want to see the product in real size before buying. It's a great opportunity for all ecommerce businesses to show their products in virtual reality. Digital commerce was never this close to physical experience. 
For example, IKEA offers their customers the possibility to see the furniture and accessories in real time at their house. But a solution like this can be applied in a variety of industries. This can also involve trying on clothes, accessories such as glasses or rings, and cosmetics such as lipstick color on the lips. 
Live streams
Live commerce is a combination of live streaming and e-commerce. It's simply shopping through online streaming, enabling watching and shopping at the same time. Live streaming has recently become very popular and using it for marketing and sales purposes was a natural consequence. It's said to be the next wave of the e-commerce revolution. Such a feature in your e-commerce app could definitely bring your business an amazing growth.
Voice search
Voice commerce is a technology based on artificial intelligence which helps you do shopping just with your voice and a smart device like a mobile phone or smart speaker. This trend has become so popular mainly because conversational commerce is the most convenient, fast and easy-to-use among all ways of mobile shopping. It doesn't require any skills, knowledge of modern technologies or even using your hands! Because when you want to buy something with the use of voice commerce, all you have to do is tell a command and it's done. So maybe it's a good idea to implement it also in your e-commerce app. 
Read more about voice commerce in this article.
Conclusion
If you're thinking about building an m-commerce app, implement the above must-have features and then you can also think about the additional benefits like Augmented Reality or Livestream shopping. Remember that it's never a bad idea to start with an MVP instead of building a complex app for the start. 
Then, track your customer journey, their shopping habits and other metrics with Google Analytics or other tools and improve your app based on the latest trends.