What is Live Commerce? Benefits of livestream shopping
Live commerce is a combination of live streaming and e-commerce. It's simply shopping through online streaming, enabling watching and shopping at the same time. Live streaming has recently become very popular and using it for marketing and sales purposes was a natural consequence. It's said to be the next wave of the e-commerce revolution.
This very convenient way of online shopping started at Alibaba's Taobao Live in May 2016 and is now a major sales channel in China. Let's dig into the benefits of live commerce and reasons why the e-commerce market needed a solution like this.
Why do customers like live shopping? — benefits of Live Commerce
How is live commerce better when instead of convenient pictures of models, all I get is a quick show of products to buy? Besides, it starts at a particular time and if I watch it later, the product I wanted to buy might be unavailable. 
Well that's true but let's not forget about one very important thing. Live streaming brings people together. And it's something we need, especially in the time of the pandemic. 
"Similar to home shopping TV channels, live streaming commerce is a form of online shopping offering a real-time interactive experience between influencers or celebrities and consumers. Live commerce has exploded in China with sales revenue expected to reach 1.2 trillion yuan by the end of 2021." (source)
Let's see what other benefits we can list.
Real-time value
Enabling real-time shopping is one of the most important features of live commerce. Why? It's probably the sense of urgency that makes customers want to buy — now, quickly, as long as that unique product is available at such a good price. It naturally encourages rapid purchase and it simply works for better sales. 
Enabling fast and easy shopping
With live commerce, product reservations are made by sending a single message on the stream. Then, it's harder to withdraw from the purchase because customers can go through the whole buying process very quickly. As soon as the customer sees the product on the screen, they can reserve it straight away without any additional confirmations. And if the tool allows it, it is also possible to buy the product directly from the stream. 
Purchases can be made on the spur of the moment — I looked in the app, saw something cool and bought it.
Bringing people together
Customers may become more loyal and more trustful through direct interaction provided by live commerce. Moreover, the fact that a specific number of other people are watching the live stream makes them feel like they are in the company of other shoppers. And it's always better to buy in a group of people. 
More accurate presentation of products
A live video enables the seller to show the product in detail, in different ways. If it's a cloth, a presenter can wear it and show the audience what it looks like on the body. Live streams also enable customers to ask questions and we can react immediately by e.g. changing the light or position. Showing how a particular material fits and presents itself on a person greatly enhances credibility and customer confidence.
Encouraging customers' engagement
Thanks to live commerce, customers can ask questions on chat and get answers in real time which is a great value for high quality customer service. Buying experience becomes more engaging, close and customers can feel as part of it. 
Before hosting a stream you should ask people to invite others for the event, for example by sharing it with friends on social media. It's not only about gaining popularity. This kind of engagement can enable people to watch and shop among their friends. You can encourage them e.g. by promising a contest if the live stream is watched by a specific number of people.
Furthermore, you can even engage the entire community by inviting influencers to the stream. They have developed trust among these people, so customers will be more willing to buy products recommended by them. 
Live streaming is available on social media
You can host a live stream directly on social media like Facebook and Instagram and sell your products there. These are the most popular and effective e-commerce channels. You don't need to make customers take any additional action as they already have an account and visit social media every day. 
However, these live streams don't have such extensive options as e.g. "add to cart", which is possible when connecting the entire shop to a stream in a mobile app. So it would be a good idea to try this channel through social media, to see if this option is suitable for your business.
Live commerce mobile apps
When the retail industry expanded to include another e-commerce channel, new opportunities arose for merchants. New solutions have started to appear on the market offering customers the use of live commerce directly from the app. What are the advantages of this sales method? 
First of all, in a dedicated mobile app, customers can register with all the necessary data and then buy without restrictions and without the need to enter them again or to send them to anyone. By creating a live commerce app, you can invite influencers who will not only promote a specific brand, but also your app to encourage purchases and boost sales. 
Benefits of having a live commerce app
Customers can buy products directly from the stream

they're watching with no need to take any additional actions

You can

enable users to register and buy conveniently

in the app

It's a

convenient tool responding to today's trends

 

There's a possibility to

connect the app to your store

so that all the products presented on the stream can be viewed and purchased in the app

Users of the app can always go back to the stream they missed

You can organize

different streams with products from various categories

so that your customers can choose what they'd like to see

In-app shopping cart enables buying products in bulk

with no need to make multiple payments 

Allowing customers to

go to the stream associated with a particular product

allows them to see it in a

different light

,

on the body

or

how using it looks like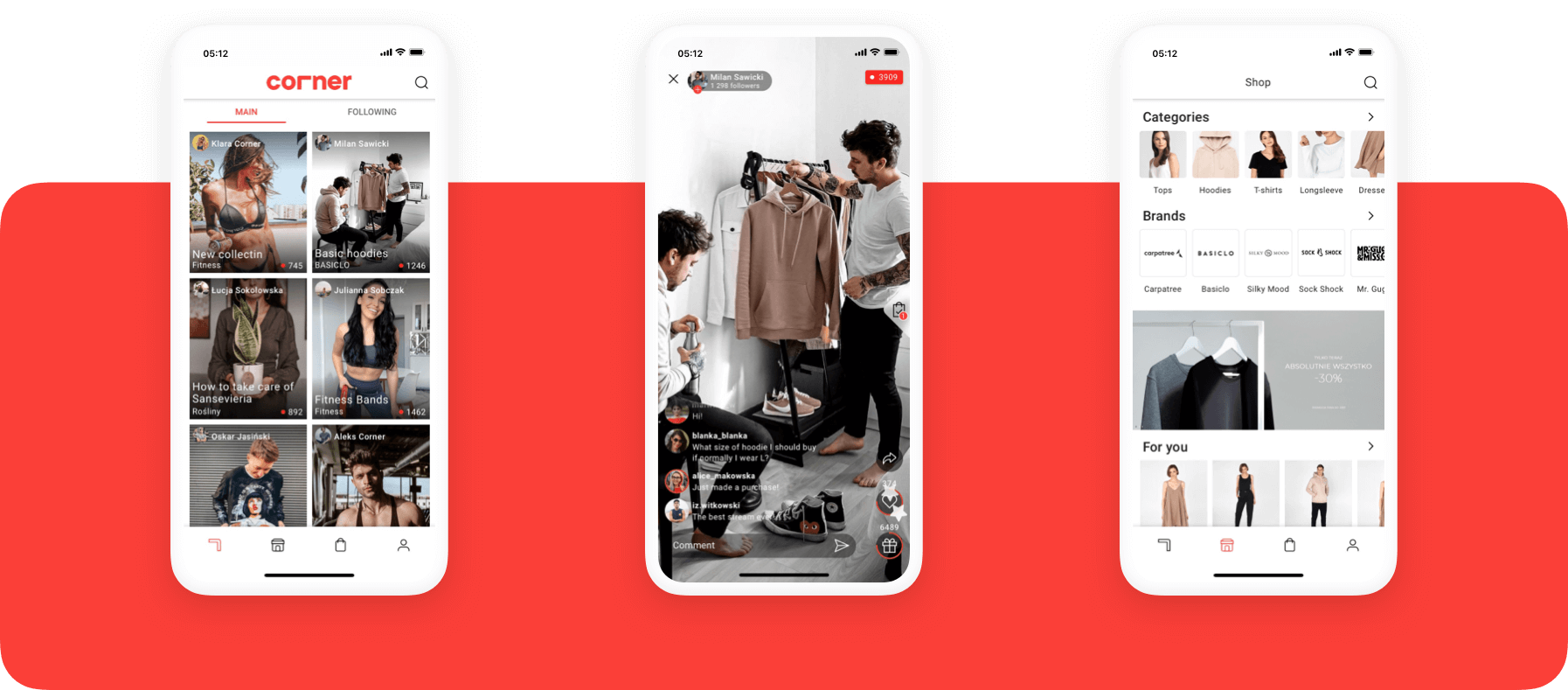 How can live stream shopping improve customer experience?
Customer experience (CX) is basically your customer's view on the product, service and overall, your business. It's highly important to keep great CX in mind when building your brand and when making development plans. The two primary points that create the customer experience are people and products. That means that you don't only have to take care of the quality of your product but also the whole service.
That's why live commerce is one of the ways to improve the customer experience. Offering an e-commerce platform or m-commerce app you can extend your business activity by implementing live streaming for your customers' convenience and fun. 
Live events may increase the popularity of your store, apart from improving the overall shopping experience. And this, of course, may lead to increased sales. 
Conclusion
Video content, especially live video events have a great power nowadays. Give your store viewers different ways to shop online and see which work the best for your business. 
Covid-19 pandemic gave rise to various trends in e-commerce. Apart from live commerce, you can also learn about voice commerce and m-commerce from our blog. 
Have fun finding the right path for your company!