Trends in fitness mobile apps in 2022
Fitness apps have become unbelievably popular over the past few years. Why did this happen? Probably partly because of the pandemic and lack of possibility to go to the gym. But it shouldn't be considered as the only factor. The development of new technologies also encourages us to take advantage of the kind of apps we never thought about before. Even if you've never been a fitness enthusiast, you have probably tried at least one fitness app in your life, right? Another thing is that the awareness about our health has increased significantly. People simply now care more about their health and try different methods to improve it.
Global fitness app market size
Global fitness app market is growing significantly – in 2019 there were 203.45 million users of free fitness apps, while in 2021 they've reached 359.53 million users. Revenue in the Fitness Apps segment is projected to reach US $16.60bn in 2022.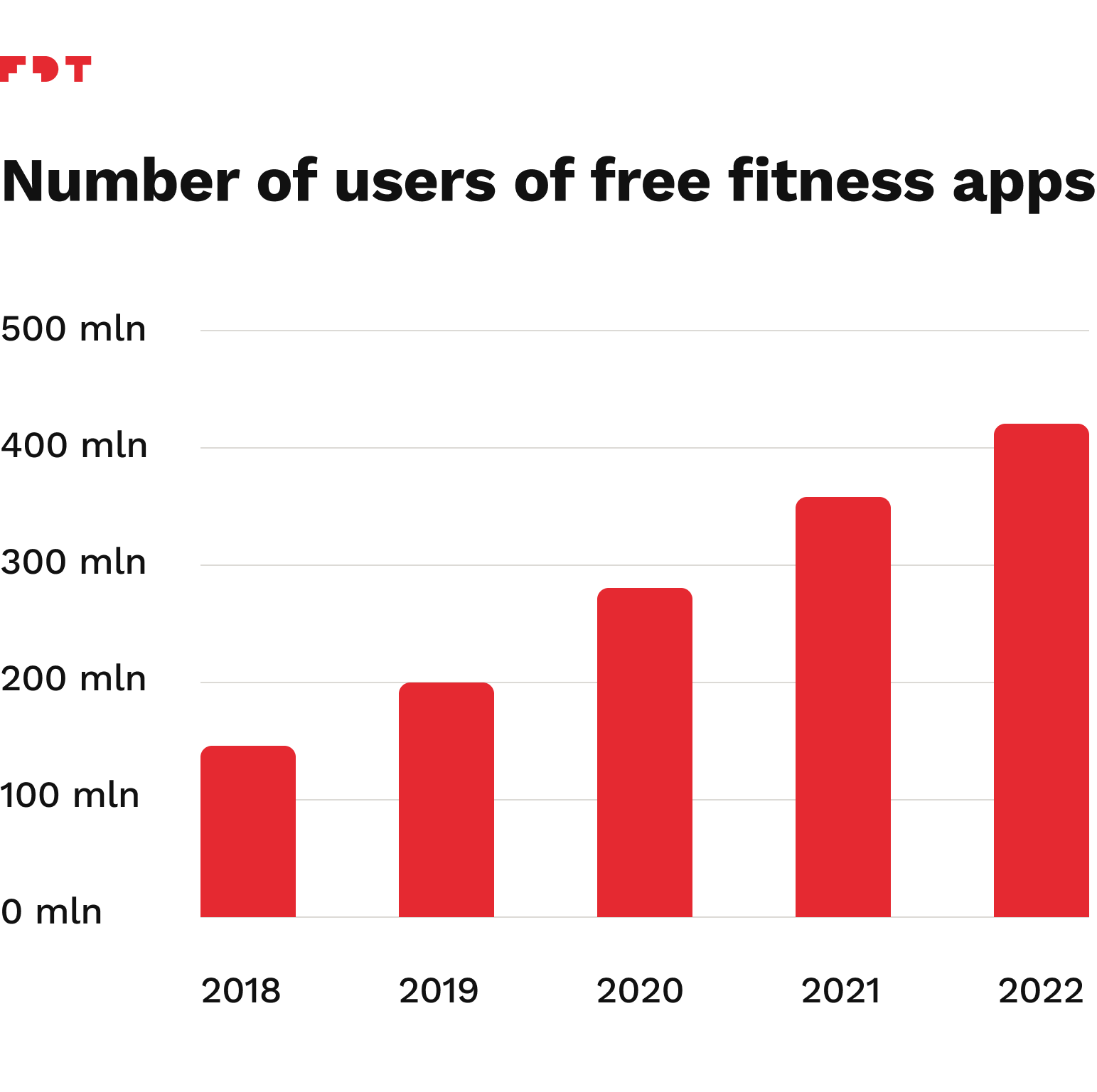 What is a fitness app?
A fitness app can have different meanings as various ideas related to it are being tested. Generally, fitness apps are created for those who want to do home workouts. That's why they've gained so much popularity during the hard times in 2020, when gyms and other venues were closed and people spent their free time mostly at home. However, apps offering ever newer capabilities have not lost their popularity despite the reopening of the venues. Many people have become accustomed to using them and have found other features useful in their daily lives. 
That's why the fitness app market has grown so much and when considering creating a mobile app, it's probably a good idea to think about it.
Fitness app trends
Below we take a look at fitness app market trends that have made and continue to make these apps such a popular choice. 
Health and fitness apps
Fitness app market doesn't end with apps for doing workouts. They are often merged or composed together with health apps as these aspects are strongly related to each other. That's how a fitness app can also contain features for measuring your health parameters, like blood pressure and pulse. They also often track your weight loss. Fitness app development can include using system-specific features for the above metrics. Especially if they're synchronized with a wearable device.
Wearable devices 
Smart watches and other wearable devices are becoming increasingly popular among younger and older people. Known for their ability to track health parameters, monitor sleep and keep track of workouts, wearables should definitely connect with your fitness app. 
To access and share health and fitness data in your app, you can e.g. use HealthKit (for iPhone and Apple Watch) and GoogleFit APIs (for Android and iOS devices). Apple Watch and Android smartwatches can be synced using the watchOS and Wear OS operating systems.
Home exercises 
The trend of doing workouts at home gained popularity primarily after the pandemic outbreak in 2020. Many people who used to go to the gym decided to move their workouts home. Additionally, lockdown made it a more popular activity to spend free time while cinemas, restaurants, etc. were closed. This convenient solution remained in users' habits even after the gym reopened. That's why fitness app development trends also include home workouts, preferably with videos and pictures explaining how to do particular exercises. It's also recommended to include workouts that don't require using specialist equipment that users may not have at home, such as barbells or dumbbells. 
Video tutorials & training plans 
Especially when exercising at home, video tutorials and ready-made workout plans will be useful for users in any fitness app. To give an example, in Squaddy app you can create a group and share multiple training plans for your group members.
Personal trainers
Thanks to fitness apps, the ability to have a personal trainer to help you do exercises correctly has been able to move anywhere but the gym. The collaboration between trainers and clients can take place in apps through interactive chats and video calls. When considering creating a fitness app, you should also consider these features. 
To give you an example, in the Jobu app, you can join a class or a personal trainer to plan your workout together. 
AI, VR and AR
Artificial intelligence, virtual reality and augmented reality have also become useful in the fitness industry. These technologies are increasingly being developed across various fields and for different purposes. We are more willing to choose apps that offer the opportunity to take advantage of new solutions. When it comes to fitness app development, it is worth thinking about implementing such features, also to replace a personal trainer. Fitness assistants using artificial intelligence, such as voice commands, are the present and future of the fitness industry. 
Virtual Reality and Augmented Reality are often implemented in mobile apps through gamification, making exercises fun and more effective.
Live classes
Live streams are also constantly growing in popularity, not only on social media platforms. It's another trend that is being used in the fitness app market. Live streams allow users to participate in live workouts with instructors. Live training means more motivation and the ability to ask questions and react in real time.  
Progress trackers
A progress tracker can also be pretty easily related to a health and fitness app.Users who decide to start exercising for their health like to track their progress and might also like to be notified that it's time to do a workout. The app should therefore allow us to track our development and provide statistics about our progress over time. Thanks to this, users will find motivation to keep training. 
Outdoor activities 
When creating a fitness app, don't forget that people often choose outdoor activities instead of home workouts. Outside training is also among fitness app development trends, so think about those who enjoy jogging, walking, but also skiing, skating and hiking. It's worth implementing tracking these workouts too, as well as help users do it right.
Health clubs apps 
Heard about fitness clubs? They are now also called health clubs and they more and more often offer apps to hold the club card, but sometimes also include other features such as fitness programs, events calendar etc. If you're considering creating an app like this, don't forget to make it available for wearable devices too, to make using it easy and enjoyable! 
It's hard to have a business without a mobile app nowadays, isn't it?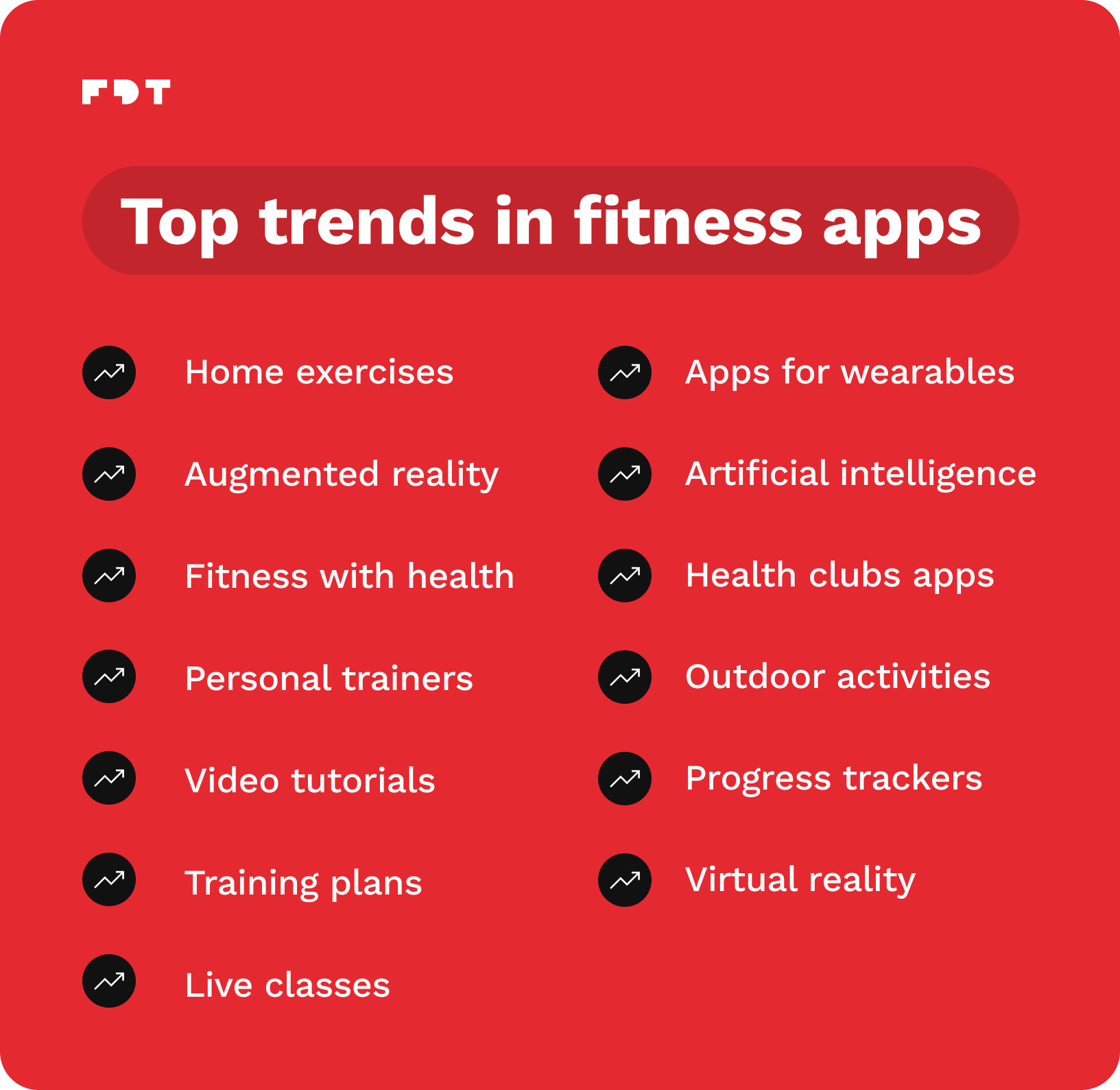 Popular fitness apps 
Let's have a look at some of the most popular products on fitness app market:
Conclusion
If you're looking for ideas for a new product, fitness app development might be the right choice. As mentioned at the beginning of this article, the fitness app market is growing and some of its areas are still waiting for development and new opportunities. Although new technologies are constantly implemented, you can offer other, not very well known opportunities to encourage users.
So when entering the fitness app market, don't forget about the latest trends and implement them in your app to make them attractive for your target audience!