WellSenz is a Flutter based app created as a part of a promotion campaign for the book "18 Wellbeing Hacks for Students: Using Psychology's Secrets to Survive and Thrive". It helps you build wellbeing hacks into your life, using techniques from CBT, Mindfulness, Solution-Focused Therapy and Positive Psychology, all based on psychological research.
Challenge
The founder of WellSenz reached out to us after a deep research among mobile app development companies with a project of an app to help students take care of their wellbeing and mental health. It was intended to be a simple tool to help users check daily activities, helping them build a routine of positive habits. 
The mission of this project was to build the best student wellbeing app in the universe. Our Partner worked with schools and colleges to get students' ideas about what they'd really like to see in a great app, and to make that happen.
The goal of this project is to
help students take care of themselves and their environment

by building good habits

enable weekly and monthly

tracking of activities helping to achieve wellbeing

provide

support to

people in need

from different organisations

in the

Help Zone 

maintain the

atmosphere of peace and balance

in the app with

pleasing animations

and the overall look 

offer

over 60 multi-sensory hacks

which can be built into your day

help to put the topics described in the book into practice

as the app is a bonus to promote the piece
Project's scope
We received ready-made mock-ups from our Partner. We organized workshops to analyse them as well as to get to know our Partner's vision and needs for the product, and finally make the idea come true. Then we were responsible for creating the design of the app, mobile app development using Flutter and launching it in mobile stores.
The app was created in cooperation with a Psychologist. It includes the content created by the author and allows to express the ideas conveyed in the book.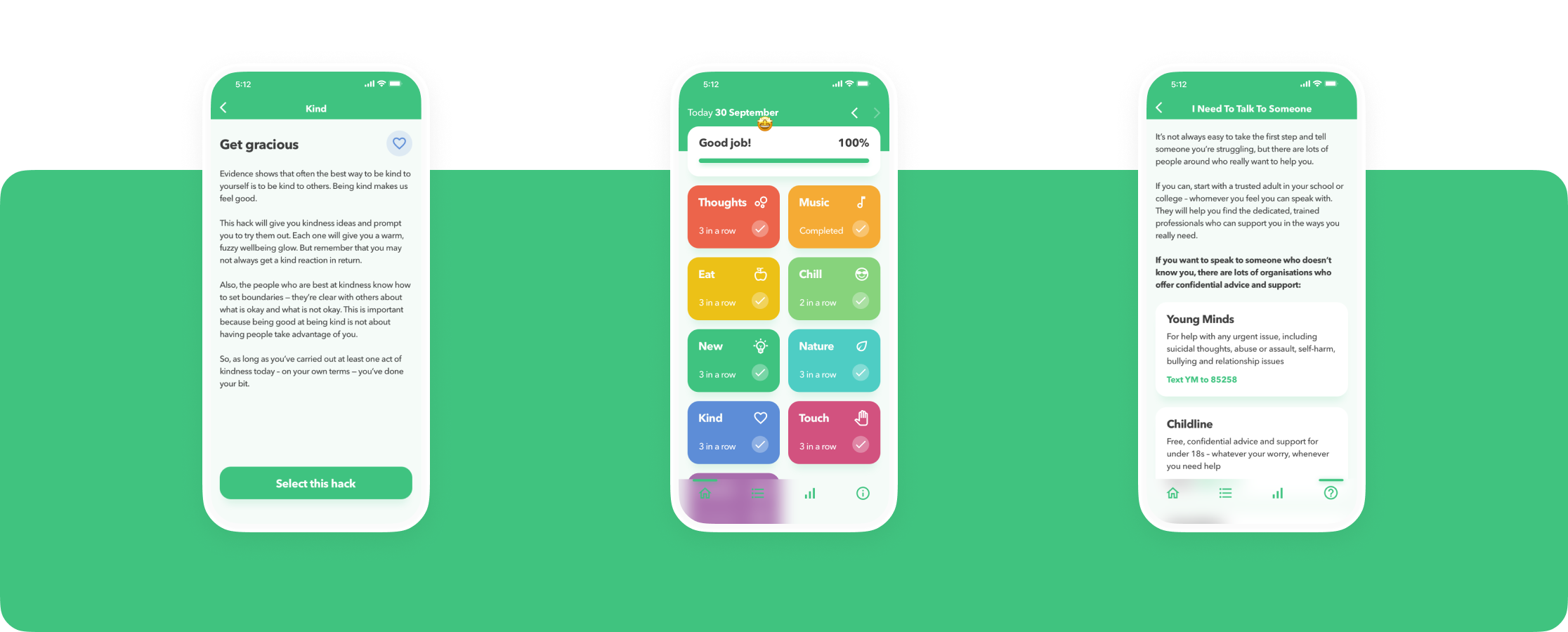 Solution
Technology stack
We've created this mobile app using Flutter which enables fast development for iOS and Android with a single codebase. Therefore, we were able to launch the product faster and our Partner benefited from this by cutting costs.
Our team
Flutter developer

Quality Assurance Specialist 

Project Manager 

UI Designer
Communication
Good communication is crucial to build a product that meets the client's and users' expectations in an efficient way. In this project we've been using Jira, Google Meet and e-mail to cooperate with our Partner and coordinate tasks. All to keep the process as efficient and transparent as possible.
What our Partner says about us
This was a steep learning curve for me and the whole team at FiveDotTwelve were as patient as they were professional. It really felt like the whole team was working together to build the best possible app, developing and enhancing my initial ideas.